One of the curriculum that we really enjoy using in our home is called Spell to Write and Read by Wanda Sanseri. It is a phonics and spelling program for preschool thru high school age students. I love that I only had to purchase the core kit one time for all my children for all the grade levels. Yip, you heard me right! Once you buy the core kit you are off and running for years of phonics and spelling lessons. (The only additional purchases I make are to buy one Learning Log (primary or black) per child per school year.)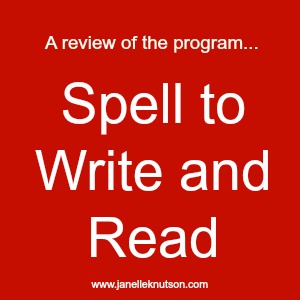 In my opinion, Spell to Write and Read is one of the best (if not the best) phonics and spelling program available. It makes sense of the English language like no other program I've seen and the research behind the program is amazing (based off of The Writing Road to Reading by Romalda Spalding and the research of Dr. Samuel Orton). While I believe this is a superior phonics program, I do not believe that every family must use it. I, myself, have found one particular writing curriculum to be far superior than any other, however the cost and time commitment of this particular writing curriculum does not fit well with our family right now, so we don't use it. No parent (or educator) can provide a perfect education so don't feel bad if you pass on Spell to Write and Read and choose another phonics and spelling program for your family. I'm pretty sure your kids will learn to spell and read with any program you choose.
But if you are curious about the Spell to Write and Read program or you are already using it but want some additional resources and ideas then this post is for you! (Scroll down to the bottom of the page for fun games and free printables to go along with the SWR program!)
Here is my pro and con list for SWR:
Pros:
Economical- Core Kit cost $105 and you use that every year for every child. You also purchase one Learning Log  per child per school year purchased from BHI or you can use a regular composition notebook. There are no other purchases needed!
I was always told that English had a ton of exceptions to the numerous rules but SWR uses 70 basic phonograms and several rules to explain more than 93% of the words in the English language! I love that I found a phonics program that actually explains how the English language works! *Note: A phonogram is letter or combination of letters that represent a sound*
A lot of phonics programs introduce words according to word families, leaving little need for the child to really think about the sound of the letters and the rules behind the spelling. SWR allows a child the opportunity to *think* about each word before spelling it so that the rules of the language are firmly established  in the child's mind. My kids don't have to guess at the spelling of words anymore; they just think it through using the spelling rules they have learned!
For my preschool/kindergarten age children, I like that I can teach them the phonogram sounds right along with teaching them handwriting. (Because I want my kids to learn cursive writing before printing, I use the inexpensive program Cursive First by Elizabeth FitzGerald which coordinates with the SWR program).
SWR integrates beginning grammar, composition and vocabulary with its phonics and spelling lessons. (Although I would advise purchasing an additional grammar and composition curriculum for the later elementary school years and beyond).
Cons:
Teacher intensive- SWR requires a lot of teacher investment. This is not a spelling curriculum that your child can do on his or her own. A parent (or educator) must be prepared to spend time teaching and reviewing the phonograms, rules and dictating the spelling words on a regular basis.
Takes time and effort to understand how the program works. This is not a curriculum that you  just open up and jump right into. A parent teaching this program should take several months to look over the materials, read the teachers manual and become familiar with the phonogram sounds, spelling rules and spelling markings that are used throughout the program.
Are you interested in the SWR program? Below you will find some helpful links.
Back Home Industries- They sell the SWR curriculum
LITHBITH Educational Services – They sell the Cursive First curriculum
More about what the SWR program is all about.
Answers the common questions about SWR.
Video of SWR Phonogram Review
Video of SWR Dictation (list J) and Dictation (list A)
Video of SWR used with younger children
Are you already using SWR but need some fun activities to liven up the learning? Then check out the links below.
Fishing for Phonograms (blog post)
Phonogram or Spelling Word Candy Land (blog post with video)
Read it. Spell it. Write it. (Free printable)
Roll it. Read it. Write it. (Free printable)
Magnetic Phonogram Tiles (Free printable)
Read it. Stamp it. Write it. (Free printable)