As the school year begins and many of us venture into a new year of homeschooling, I thought this might be a good time to remind ourselves that it is God, not us, who is in control!
So I pulled out a post I wrote last year (on my old blog). I hope you are encouraged!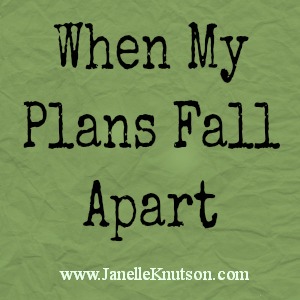 I had great hopes for our first day of school this year. Just a few weeks earlier, I had envisioned waking up early to an orderly home all ready for a new school year to begin. I would get ready before the kids even awoke. I'd walk into a clean kitchen, stocked with food so that I wouldn't have to interrupt our first week of learning with a trip to the grocery store. There would be freshly sharpened pencils, organized notebooks and happy children sitting at the dining room table eager to begin their studies. The little ones would play happily and quietly nearby with toys while I instructed the older ones.  It was a grand dream. A great ideal. But it wasn't reality…
Reality is oversleeping. Reality is being awakened by my son's urgent voice informing me that his little sister had undressed herself right down to her dirty diaper that was now dirty-side down in her crib. Reality is walking through a cluttered house and into a kitchen with a full sink and an empty refrigerator. Reality is a little one throwing a tantrum for most of the morning. Reality is a laundry room full of "stuff", a hamper full of clothes needing to be washed and a mom who neglected to do any lesson planning for the first day of school! This is reality. This is life. This is the stuff that can break us and lead us to throw up our hands and declare "I'm done! I give up!"
But I did not give up. Instead, I did what I strive to do every day, in every situation.
I made the most of what I had been given.
And I listened to God speak.
It's that simple. Yet it can be so hard. Laying aside our own agenda, our own plans, our own expectations and putting God first, letting Him change our attitude so that we can make the most of what He has given us for that day and learning to listen to His voice speaking to us…. it can be difficult but it reaps such JOY!
So, I put God first.
Above the household chores, above homeschooling, above any other errands, appointments or agendas, I put God first. I sat the kids down, and over the crying of the littlest one, I read to them from God's Word. We read of the one, true and living God. We read of the God who has the power to do all that He wills. And we prayed. We prayed that God, in His power, would give each of us the strength to do His will for us that day. And we thanked Him. We thanked Him for His power, His strength, His unchanging character, His love, His grace and mercy and for His presence in our home. Then we aimed to put Him first in everything else we did that day. Calling on Him when moments seemed difficult, frustrating and just plain exhausting. When kids lost patience with a sibling and mom lost patience with  the kids. We put Him first and, to His Glory, joy followed. Not always a jump up and down kind of joy but a quiet, peaceful joy within our spirits. Knowing God was in control and had the power to carry us through.
Then, I made the most of what I had been given.
I searched the cupboards and racked my brain for meal ideas with the little we had. I dumped the math manipulatives on the floor and did my best to review place value with my 6 year old and 8 year old, while their brother built towers with the math blocks and their little sister threw a tantrum in my arms.
I seized a quiet 5 minutes during nap time to teach a small portion of the day's history lesson.
I left the laundry for another day and tackled the pile of dishes one dirty dish at a time throughout the daylight hours. And I thanked God for the tiniest task accomplished and for the precious children who (with their tantrums and demands) kept me walking in God's will and not my own. I made the most of the day God had given me and I was able to find joy in the struggles.
And I made sure to listen to God speak.
To speak to me of His goodness. To encourage me. To tell me what to do next. I listened to Him convict me of my selfishness, my pride, my lofty standards that were not His. I listened to Him share with me how to make tomorrow a little easier than today…. "Go to bed on time, Janelle, so you can wake up rested for a new day of challenges and blessings. Don't forget to play with the little ones first tomorrow, before starting school with the older ones. Oh, and Janelle, it might help to look at the curriculum at least once before starting a new school year." God spoke. I listened. And I was carried through the day in His strength and wisdom.
When your days seem to be falling apart, when life seems to be out of control, when you just can't get a handle on what to do next, put God first, make the most of what you have been given, and listen to God speaking to you. Then, you will find joy in the trials. Peace in the struggles. You will find God right there beside you in the craziness of life waiting and longing for you to rest in HIM.
(Originally written and published on August 21, 2012)