It's pretty warm here in Southern California but I still like to cook up soup during the "winter" months. (If 75 degree weather can be considered winter!) One of my favorite soups is this hearty and healthy Curry Lentil Soup. I serve it with a fresh loaf of bread and a side of applesauce. Delicious!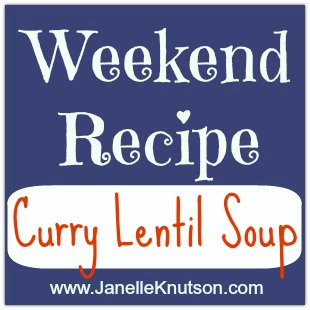 Curry Lentil Soup
Ingredients:
1/2 cup onion, chopped

2 stalks celery, chopped
2 carrots, chopped
2 cloves of garlic, minced
2 potatoes cubed
4 cups vegetable broth
fresh lemon juice from 1 lemon
2 TBS soy sauce or tamari sauce
2 1/2 cups of cooked lentils or 1 package of Trader Joes cooked lentils
2 cups of mixed frozen veggies
1/2 tsp curry powder
1 TBS parsley
1/2 tsp salt
pepper to taste
Directions:
In a large pot, cook the onion, celery, carrots and garlic in oil until softened.

Add in all the other ingredients.
Bring to a boil then cover and simmer for 1 hour or until potatoes are softened.
Optional: You can add in a cup of chopped fresh kale or spinach before serving. Adjust seasonings to your taste.