I am a better mom because of Christ.
Now, I'm not saying that I am a better mom than a non-Christian mother.  What I am saying is that having Christ working in me makes me a better mom than I would have been without Him. With Christ I am more patient, less selfish and filled with joy in all circumstances. Without Christ I am quick to anger, slow in serving others and usually easily irritated.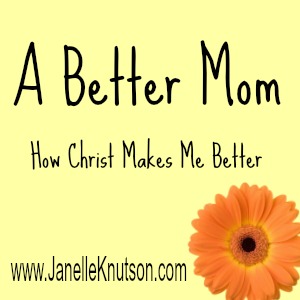 But just being a Christian is not what it takes for me to be a better mom. Striving to grow in holiness and becoming more and more like Christ, with the help of the Holy Spirit, is what makes me a better mom. Christ working in me and through me helps me to be a better mom. I will never be a perfect mother but that shouldn't keep me from desiring to grow and mature in my role as a mom.
I also can never become all my kids need (that is a role only God Himself can fulfill) but I can be used by God to meet more of my children's needs if I am growing in my faith  rather than neglecting to grow in my walk with the Lord at all.
Yes, I am a sinner. Yes, I mess up. But that should not give me an excuse to brush aside my weaknesses. Rather, I should dwell on the fact that as a sinner I am saved by Christ. I am messed up but God is making me new again. And though I have weaknesses, with the help of the Holy Spirit, I can become stronger. That is the power of Christ in me – being forgiven, made new and transformed into the image of Christ.
So, for me, I will recognize my failures but instead of dwelling on them and feeling guilty for them, I will turn to Christ and ask Him to help me to become a better mom tomorrow than I was today… in HIS power.