We just returned from a three week road trip with our family of eight so I thought I would share with you some of the things I put together in an effort to make the trip a little more enjoyable for parents and kids alike. *This post contains affiliate links.*
Road Trip Countdown Banner: My daughter printed out this great road trip countdown banner and assembled it for our trip. I thought it would be a great visual marker for the kids and a fun way to mark our progress as they tore a sheet off after we reached each destination. It was working really well until the baby grabbed it and ripped it down but I would definitely make one again for any future trips.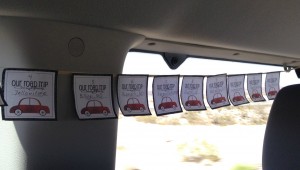 Coloring in States on US Map: We printed out a blank map of the US and the kids took turns coloring in the states as we drove through them. They really enjoyed watching our GPS for the exact moment when we crossed state lines so that the next person could color in the new state. We drove through 12 states on this road trip!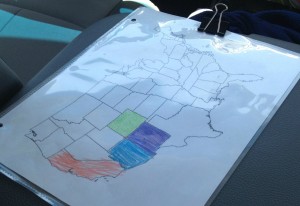 Highlighting an Atlas: My husband had the great idea to highlight an atlas with the routes we are taking and marking out our destinations. This way the kids (and parents) could easily see where we were, where we were headed and the destination stops along the way.
Games, Games and More Games: I packed a lot of games for us to do in the car. Here is a list of some of the games we took along: Mad Libs, 
License Plate Game, Restaurant I Spy, cards with silly tasks and activities to do while driving (given to us by a grandparent), several different types of bingo games and various other games and activities that I found online. (Click here and here for more ideas)
Coloring Books, Mazes and Word Searches: I found some cheap coloring books, mazes and word search books at thrift stores and packed those up along with some colored pencils.
I Spy type books: My kids love I Spy
 and Can You See What I See?
books so we purchased some new ones to take along on the trip.
Travel Lego boxes: I saw this travel lego box idea on pinterest and thought it would be a great idea for my lego-loving crew. I used velcro on my boxes so that we could remove the lego board for later use in the hotel or at home. I made 3 boxes filled with regular legos and one larger box with duplex legos for my preschooler.
Audio: I bought several different audio books from YWAM in their Christian Heroes Then and Now series
 along with audio adventures including Adventures in Odyssey 
and the Brinkman Adventures.
iPad: We brought along our iPad full of games for the kids to play.
DVD's and DVD players: My parents blessed us with a tiny DVD player for each kid so we brought those on our trip along with a DVD case filled with our favorite movies. We also bought each child their own headset to use in the car. And yes, we had 5 kids all watching 5 different movies at the same time. We only pulled out the DVD players towards the end of a long day of driving. It was a treat for them and a sanity saver for my husband and I after hours of driving with 6 kids.
No Mess Marker and Coloring Book: This no mess coloring book 
was a life saver for our preschooler. It kept her busy without making to much of a mess in the car.
I also scheduled our traveling so that our long days of driving were separated by a few days of extended time in one location visiting family or staying at a hotel with activities and sight-seeing.
What do you do to keep the kids occupied in the car?